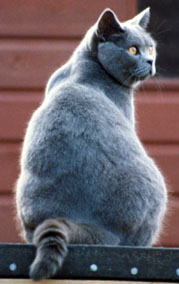 Harry was a British Blue Shorthair, he was born in 1994 and was Sophie's half brother. He was a very large cat but a total coward, any noise or anything out of the ordinary and he would run and hide, usually in our bed. He loved hunting and would cry to be let out into the garden of an evening, but would never leave the garden, that would be too frightening!

Early in 2004 we noticed he was loosing weight and after tests he was diagnosed as suffering from Polycystic Kidney Disease (PKD). Sadly just before he was due to have the diseased kidney removed a chest x-ray showed signs of cancer, the operation was cancelled and we took him home to care for him. He was put to sleep on the 16th April 2004.

For high quality images for printing please click picture.