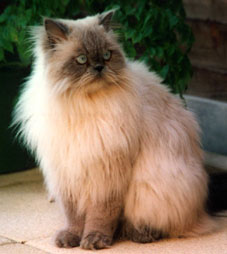 Thomas was a Blue Colourpoint Persian, he was born on the 15th December 1991 and lived with us until the 8th April 2002. He developed Feline Hypertrophic Cardiomyopathy, a heart disease that sadly did not respond to treatment.
He was our "Top Cat" and very easy going as you can see. He loved sunbathing in the garden or just watching time pass. He was extremely intelligent and affectionate, very handsome and had a fantastic vocabulary.
Thomas will be greatly missed by everybody who knew him, human and feline!

For high quality images for printing please click picture.